About Me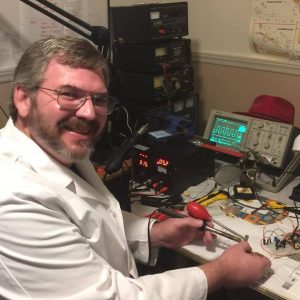 Welcome to the website.   My name is Ricky Bryce.  I've been working in Industrial automation since 1995.  I taught Industrial Automation for 24 years, and am currently working with generator controls, field excitation, and protective relays.   I do expect to have some posts that show how to integrate our circuitry with industrial processors.  Particularly, this will be over Serial, Modbus, or Ethernet.
Basically, in the early days of electronics, almost all logic had to be performed at the board level, which made circuitry very complex.  With newer programmable IC's, most of the logic can be done through programming.  This decreases the amount of components required on a PCB board for any task.   In the last few years, I've become more interested in these basic electronic components.   Obviously we can use them to build, and integrate almost anything we can imagine.
Projects
I will continue to write about projects I'm working on.  These might not all be projects with the Arduino platform.   Some of the posts will be simplified to the component level to help us all understand how the individual components are working in a circuit, so we can understand how they fit into our vision of larger projects.  For example:  The Atmega 328 processor alone has a very limited amount of I/O, but when we understand and use it with shift registers or I/O expanders, our capabilities can quickly become limitless.
I've put this website together as a resource to share with those who have similar interests.   Feel free to make suggestions for future posts, and to comment on any post that is already written on this site.   Every document can be improved upon, and clarified.      Please enjoy the website, and feel free to ask questions.   If I don't know the answers, hopefully I can refer you to a resource where you can get the information that you are looking for!
—  Ricky Bryce (Irving, Illinois)