Introduction to the RSLinx Backup Restore Utility
The RSLinx Backup Restore Utility is used to back up your current driver configuration.   Imagine having 200 IP addresses under your Ethernet Devices driver, and someone accidentally deletes the driver.   If you have a backup file, you will simply restore the driver configuration.   If you get a new laptop into your department that does not have drivers set up, back up the driver configuration, and restore it to your new laptop.  Also, if your computer needs to be re-imaged, and you expect to loose all of your drivers, use the backup restore utility to restore your driver configuration.
Another reason to use the Backup Restore Utility is for a specific configuration for certain equipment.  Once communication is set up, back up the known driver configuration that works, and name the file for that particular machine.
Backup your driver configuration
Access the Backup Restore Utility by going to Start | All Programs | Rockwell Software | RSLinx | Backup Restore Utility.  When the utility opens, press the "Backup" Button.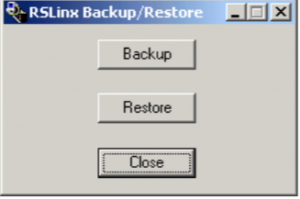 Next, save the backup file to a place that is easy for you to get to.   Here, we will store the file to "My Documents".  You will also want to store the backup file on a thumb drive or on a server.  This way, you can access the file in the event of a computer crash.
That's it!   At this point, your drivers are all backed up!
Restoring your driver configuration
To restore your driver configuration, run the utility again: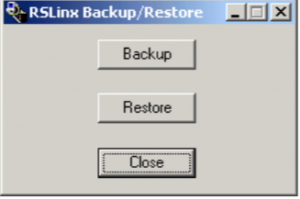 This time, press the "Restore" button, then browse for the file that you are restoring from.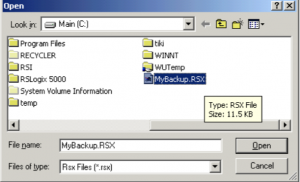 Next, press the "Open" button.   Be aware that RSLinx will shut down when you restore the driver configuration.   You may loose communication to other programs such as Studio 5000 if they are currently using RSLinx.  Also be aware that your current driver configuration will be overwritten by the configuration in the backup file.
Finally, your drivers are restored.   Verify the driver configuration by opening RSLinx, and go to Communication | Configure Drivers.
If you lost your drivers, and need to reconfigure your drivers from scratch, visit the post on configuring the DF1 Driver or the Ethernet Devices Driver.
— Ricky Bryce