Introduction to Determining ControlLogix Firmware Revisions
There are several ways to go about Determining ControlLogix Firmware Revisions. One method is to use the Web Page served by the ENBT or EN2T. Another method is to go to the properties of the module in the RSWho Screen. Likewise, you can get live information from the module in RSLogix / Studio 5000.
It's important to realize that firmware matters in ControlLogix. For example, when replacing a module, you might need to know the revision of the old module. ControlLogix modules use electronic keying. That is to say, the processor is looking for the firmware of the new module. This will determine if the processor will connect to a new module when replacing a defective card.
Importance of Determining ControlLogix Firmware Revisions
Let's look at the properties of an output module. I'm going to right click the 1756-OB16E module. Then I'll go to properties.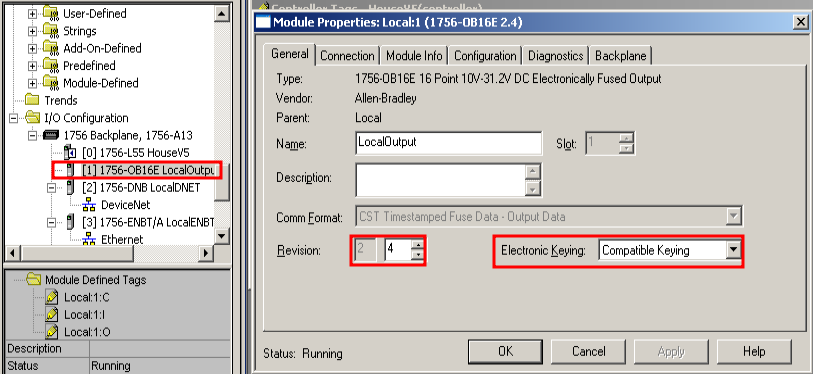 Notice that the ControlLogix modules are Electronically Keyed. In other words, they might need to be a certain revision. In this case, the revision is set to 2 (major) 4 (minor). The type of Electronic keying is "Compatible Keying". To guarantee Compatible keying, when you replace a module, the major revision should be 2. The minor revision needs to be 4 or higher for this particular module. Another option for Electronic Keying is "Exact Match". If the keying is set to "Exact Match", the replacement module must be 2 major, 4 minor. Another option is to disable keying. Of course, you can change the revision of most ControlLogix modules. ControlFlash is the software to upgrade or downgrade the module.
If the revision is incorrect, you will see a caution sign on a module. Go to the properties of this module and look at the connection tab. If your error message is "Electronic Keying Mismatch", you should use a different module or flash the firmware revision of the module.
Use RSLogix / Studio 5000 to Determine the Revision
Go to the properties of the module. Click "Module Info". You will see the module's revision.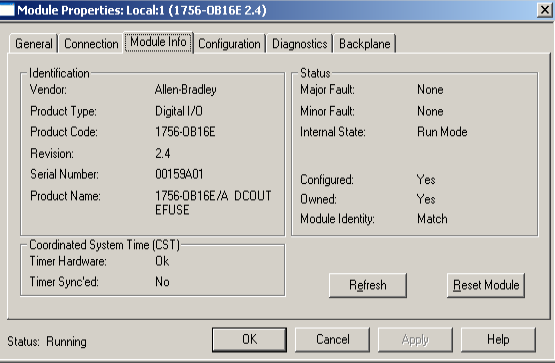 Use RSWHo
In RSLinx, Open the RSWho screen. Browse to any module. Right click the module and go to "Properties". The properties screen will display the firmware revision of any module.
Use your Web Browser
Using a Web Browser, enter the IP address of your Ethernet module. Click "Browse Chassis". You will see a list of all modules in the chassis. You will also see the firmware revision of each module.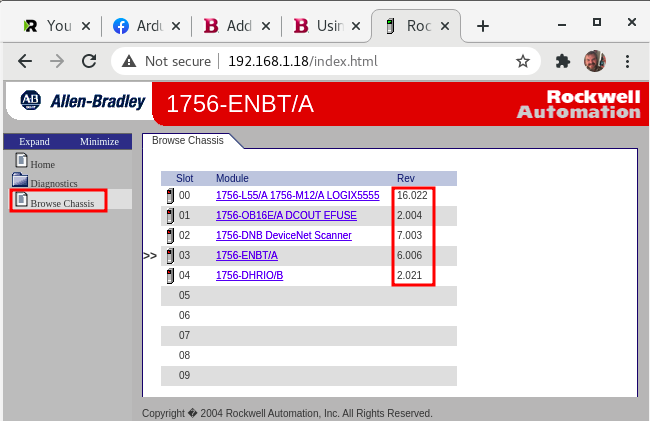 In Summary, always check your Studio 5000 Project. This will tell you what firmware you need. You may need to flash a new module before the processor will connect to it.
Visit the ControlLogix Category page for more information on CotnrolLogix!
— Ricky Bryce